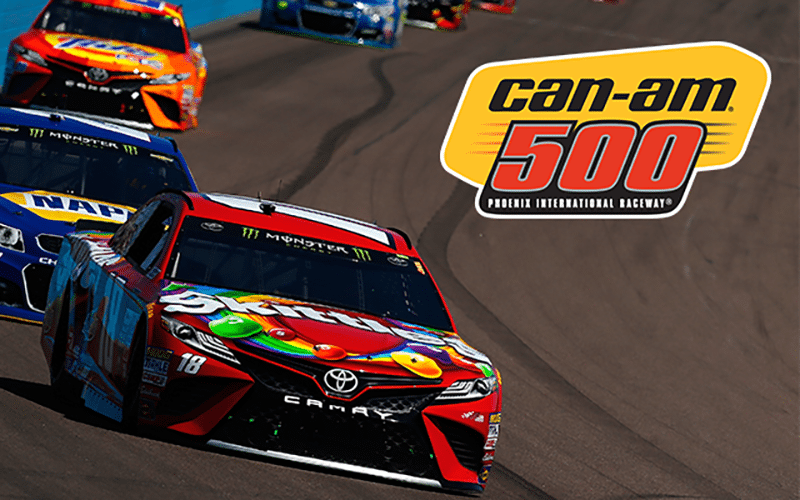 Seven drivers will be competing in Phoenix for three open sports remaining in the championship. Kyle Busch, Martin Truex, and Kevin Harvick currently occupy those spots on points, but a win by a fellow driver, or misfortune of any kind, could quickly shake things up in the final standings. Of course, Harvick's win at Texas kind of held up, but his automatic bid to the championship was rescinded after failing post-race inspection for an unregulated splitter. I actually prefer having as many people compete as possible, as I think it will make for a dramatic conclusion, but we'll see.
ISM RACEWAY
ISM Raceway, formerly known as Phoenix International Raceway, is a 1.0 mile, flat-banked tri-oval located in Avondale, AZ. ISM is sort of like if you left Richmond in a hot car to melt and slump over to its side with gravity. With only 9 – 11 degrees of progressive banking in the turns, there are loose similarities to New Hampshire and Martinsville for braking and turn initiation as well. The frontstretch features a distinct dogleg, which actually includes some elevation changes as part of its challenges. Some drivers have described the [2011] reconfigured design as a "roller coaster," though it's certainly less pronounced on TV (like everything else in this sport). There is no out-of-bounds, and we'll see plenty of drivers cutting the dogleg for position at times. Doing so, however, complicates the entrance into turn 3, especially when several cars are side-by-side for real estate.
PIT STALL PICKS: THE DOWNFORCE, THE DRAFT, & THE DRAG
This section is less about prognostication, and more about highlighting drivers catching my eye at a given moment. We all play in different formats and have different strategies, but hopefully this adds some value to your results. Good luck!
THE DOWNFORCE (start 'em)
Kevin Harvick – Since 2012, nobody has been more dominant [at any track] than Kevin Harvick at Phoenix. 7 wins in 13 events (54%), an average finish of 3.0, a loop rating of 128.3, and over 1200 laps led. After a disappointing (context is everything) streak of 4th, 6th, and 5th place finishes, Kevin finally got back into victory lane earlier this spring.
Kyle Busch – Like the obvious top pick, Kyle is the obvious runner up selection here. Kyle has finished 5 of the last 6 events in the top-four, and the one where he didn't was a respectable 7th place. Like Harvick, his Pit Stall Rating of 325.0 is also in the stratosphere. Lastly, Joe Gibbs teams are typically strong at this track in general.
Chase Elliott – Coming back to Earth a little, Chase is probably my favorite of the mortals. He's strung together two consecutive top-threes at Phoenix with an average finish of 6.8 over the last 5 events. Though he still has a chance to qualify for Homestead on points with some help, a win is his best bet.
Martin Truex Jr. – This hasn't been Martin's best or most consistent track throughout his career, but it's do or die for the big three this weekend, and you can expect the #78 to compete. Truex has two consecutive top-fives at Phoenix.
Denny Hamlin – Denny has a career top-five percentage of 42% at Phoenix, which makes it one of his top overall tracks. If not for a DNF last year (contact with Chase Elliott, if you recall), he'd have 6 consecutive top-tens at Phoenix.
THE DRAFT (dark horse)
Erik Jones – Erik finished 4th in this race last season, and has 3 consecutive top-tens. Like all young drivers, I tend to take a peek at their Xfinity history, and I like what I see from Jones. Erik made 7 Xfinity starts at this track prior to joining the Cup series, and he finished all of them in the top-tens, including 5 top-fives and 2 poles. JGR affiliation is a plus here.
THE DRAG (use caution)
Brad Keselowski – Even with a 5th place finish here in 2017, Brad's average finish over the last 5 races is only 15.8. Like every week, this is a big name is a possible fade position, which doesn't always work. Okay, hardly ever works. Hey, I'm trying to be bold here.
AVERAGE FINISH POSITION @ PHOENIX (last 5 track events)
3.4, #4 Kevin Harvick
3.6 #4 Kyle Busch
6.8, #9 Chase Elliott
7.0, #20 Erik Jones
9.5, #88 Alex Bowman (2 races)
AVERAGE LOOP RATING @ PHOENIX (last 5 track events)
117.0, #18 Kyle Busch
115.4 #4 Kevin Harvick
110.3, #9 Chase Elliott
106.2, #88 Alex Bowman (2 races)
102.9, #11 Denny Hamlin
2018 PTS MOMENTUM (last 5 overall races this season)
48.2, #22 Joey Logano
42.2, #4 Kevin Harvick
37.0, #41 Kurt Busch
36.0, #10 Aric Almirola
35.4, #18 Kyle Busch