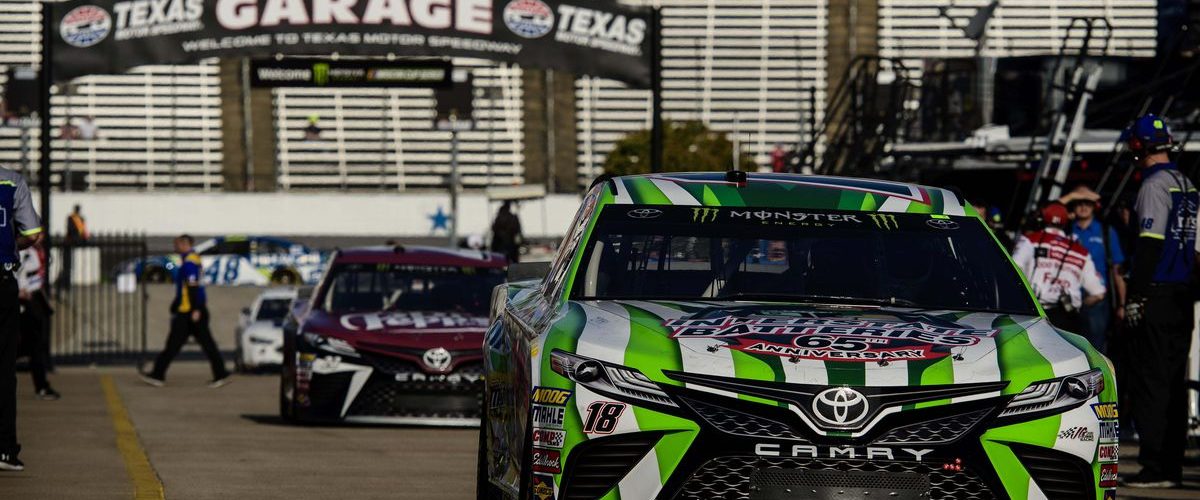 My father and I have an astoundingly bad history of luck with weather whenever we've attended a race. Driving half way to Virginia, only to learn the Martinsville race had been postponed for SNOW (what?), sets a new benchmark in our ever growing string of misfortune. Regardless, we made the best of Monday's bluebird, albeit cold conditions. We even got a chance to pay forward a debt by helping several Martinsville patrons stuck in the mud (see: The Bristol Night Race Disaster, 2016). Like us, they will eventually learn to park on the high ground, even if it means forking over some cash. Fool me once…
My Draft (dark horse) pick of Clint Bowyer went to victory lane, which hopefully offsets the fact 2 of my 5 Downforce picks disappeared in the waning laps, and ultimately closed with marginal 12th and 15th place finishes. However, I think the real disappointment was the "infamous" Martinsville hot dogs. Perhaps it was the Monday layover, but I'm sorry, these were marginal at best. Don't get me wrong, I still ate 6 of them throughout the day, but I guess I had higher expectations for greatness. Anyway, let's move on to brisket country.
TEXAS MOTOR SPEEDWAY
Texas Motor Speedway is a 1.5 mile quad-oval, most similar in shape and design to Charlotte and Atlanta. The track was resurfaced and reconfigured for the 2017 season, which I think modifies the way we need to evaluate the numbers here. In practice last April, teams were afraid to be the first on the track for practice, and the fresh asphalt made for very slippery and unpredictable conditions. Several cars spun and/or got into the wall, but the chaos was mostly sorted out by the time they raced. While the surface has now had a year to weather in, it's still a bit of a guessing game to identify the new era of ringers here. The reconfiguration widened turns 1 and 2 from 60 to 80 feet, and reduced the banking from 24 to 20 degrees. While this has tempered average lap speed a bit compared to the Texas of old, the track remains one of the fastest intermediate tracks. Drivers generally do not like when a repave takes all of the character out of a track, and it's mostly due to the fact they've learned little tricks to navigate around the bumps and imperfections over the years, or know how to be faster than others when grip is a rare commodity. In this regard, the playing field has been leveled, and I think it's the reason we're seeing a new cast of characters succeed over the past 2 races here.
PIT STALL PICKS: THE DOWNFORCE, THE DRAFT, & THE DRAG
This section is less about prognostication, and more about highlighting drivers catching my eye at a given moment. We all play in different formats and have different strategies, but hopefully this adds some value to your results. Good luck!
THE DOWNFORCE (start 'em)
Wins: 33%
Top-5: 55%
Top-10: 77%
Avg Finish: 7.5
Avg Points: 39.5
Martin Truex Jr. (Pit Stall Rating 228.70, 2nd) – Mr. Mile n'a Half has 6 straight top-10s at Texas, including a runner up in last year's fall race. The #78 team is guaranteed a spot in the playoffs, so they are one of the few teams with little to lose by taking chances for the win. I think the #78 team will pick up where they left off at Auto Club, and Martin is my personal pick to win this race. As always, the next name is my main worry.
Kevin Harvick (Pit Stall Rating 243.33, 1st) – Somewhere between a self-inflicted mistake at Auto Club and a bye week resides another ho-hum top-5 for the #4 team, at arguably NASCAR's toughest track. It's easy to forget just how dominant this team has been simply because they haven't won in a whopping 2 races. As fortune may have it, Harvick & Crew just happen to be the cream of the crop over the last 2 Texas races, finishing 4th and 1st. The Spring of '14 was the last time this car finished outside the top-10 at Texas, and Kevin seems to have a knack for resurfaced tracks.
Brad Keselowski (Pit Stall Rating 116.78, 4th) – Brad finished 5th and 6th on the new surface last season, and currently ranks 5th in the 2018 point standings, recovering nicely from a 32nd place disappointment at Daytona. He finished 2nd at Atlanta, 6th at Las Vegas, and 4th at Auto Club, so I have little reason to recommend shying away from the #2 this week.
Joey Logano (Pit Stall Rating 88.45, 7th) – Joey has finished 5 of 6 races in single digits to start the 2018 season, and 8 of the last 10 overall races at Texas. If not for a 40th place DNF in 2015, Joey would be ranked #1 with a 291.05 Pitstall Rating across the other 4 races. He finished 3rd and 7th on the new surface last season.
Kyle Larson (Pit Stall Rating 44.57, 14th) – The data doesn't support this pick on paper, but Kyle Larson had the best car at Texas last fall. Of course, this was during a horrendous stretch of bad luck, missing the playoffs, and following it up with 3 straight DNFs (including Texas). Earlier in the year, the #42 was runner up to Jimmie Johnson in this race. It's a new season, and only a handful of drivers have 100% top-10s at Atlanta, Las Vegas, and Auto Club. Not only is Kyle Larson one of them, but he's improved from 9th to 3rd to 2nd, respectively.
THE DRAFT (dark horse)
Ryan Blaney (Pit Stall Rating 32.83, 28th) – Ryan finished 12th in this race last year, but improved to 6th in the fall. He has two top-5s in the last 5 races this season, and it wouldn't surprise me to see him notch another this weekend. This is a new team on the rise, running 3rd at Martinsville and looking strong all day. If they can avoid mistakes, the car, the team, and the driver are capable of winning this weekend.
THE DRAG (avoid 'em)
Kyle Busch (Pit Stall Rating 110.45, 6th) – I'm not about to start hating on Kyle Busch, especially the way he's running this season. However, a word of caution: he has finished 15th and 19th on the new surface in 2017, which is an obvious contrast to his prior old-surface record. This section is all about avoiding big names in bad spots, and I think this is a wise week to find a better option until Kyle and the #18 team shows they've figured out this new configuration. You can use Kyle almost anywhere, and an argument can be made for him on this year's performance alone. But, the way I figure it, there's no sense in making an investment on bad fundamentals here.
AVERAGE FINISH POSITION @ TEXAS
4.8, #4 Kevin Harvick
5.4, #78 Martin Truex Jr.
6.5, #9 Chase Elliott
8.8, #48 Jimmie Johnson
8.8, #18 Kyle Busch
AVERAGE LOOP RATING @ TEXAS
123.5, #78 Martin Truex Jr.
116.8, #4 Kevin Harvick
105.1, #2 Brad Keselowski
98.6, #48 Jimmie Johnson
97.3, #22 Joey Logano
MOMENTUM (last 5 overall races)
47.8, #18 Kyle Busch
44.2, #2 Brad Keselowski
43.8, #78 Martin Truex Jr.
42.6, #4 Kevin Harvick
36.4, #22 Joey Logano