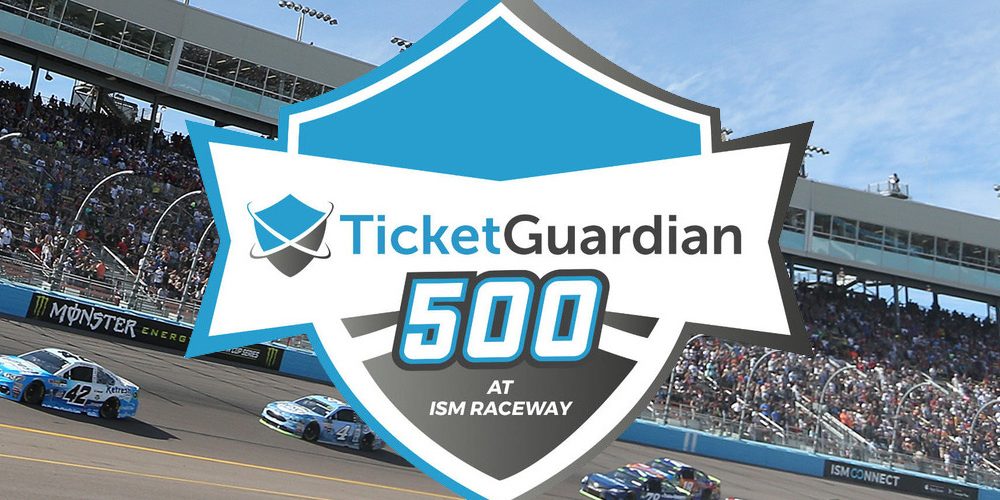 Kevin Harvick once again dominated at Las Vegas, leading an astounding 80% of the laps and sweeping both stages en route to his second consecutive victory (also the 100th win of Harvick's career). The series now heads to Phoenix for the TicketGuardian 500, and the first of two races this season at ISM Raceway. So, if you're tired of watching Kevin Harvick win, Sunday is a good time to start that home improvement project you've procrastinated. DVR the race, spare yourself the heartburn, and come back to read next week's preview to see if it's safe to watch. Odds are you'll be reading about another Harvick win, and your spouse will thank us for the unexpected progress.
ISM RACEWAY
ISM Raceway, formerly known as Phoenix International Raceway, is a 1.0 mile, flat-banked tri-oval located in Avondale, AZ. With only 9 – 11 degrees of progressive banking in the turns, its closest counterpart in shape is Richmond, with similarities to New Hampshire and Martinsville for braking and turn initiation. The backstretch features a distinct dogleg, which actually includes some elevation changes as part of its challenges. Some drivers have described the [2011] reconfigured design as a "roller coaster," though it's certainly less pronounced on TV (like everything else in this sport). There is no out-of-bounds, and we'll see plenty of drivers cutting the dogleg for position at times. Doing so, however, complicates the entrance into turn 3, especially when several cars are side-by-side for real estate. Following this race, ISM Raceway will undergo another reconfiguration to move the start/finish line to the current backstretch, which will also renumber the turns and move pit road around.
PIT STALL PICKS: THE DOWNFORCE, THE DRAFT, & THE DRAG
This section is less about prognostication, and more about highlighting drivers catching my eye at a given moment. We all play in different formats and have different strategies, but hopefully this adds some value to your results. Good luck!
THE DOWNFORCE (start 'em)
Wins: 33%
Top-5: 47%
Top-10: 87%
Avg Finish: 8.3
Avg Points: 38.3
Kevin Harvick (Pit Stall Rating 328.89, 1st) – Kevin destroyed Las Vegas and Atlanta, and is my [boring] pick to make it 3 consecutive victories in 2018. Normally, winning 3 races in a row is a very unlikely prospect. In fact, not even Kevin Harvick has done it… ever. That said, the feat certainly gets a lot easier when you're already hauling 2 of the trophies to your best overall track. Kevin is an 8-time winner at Phoenix, including 3 of these last 4 spring races, and 6 total wins on the reconfigured design (2012-present). To put this in perspective, the next closest driver at Phoenix is Jimmie Johnson, with 4 all-time wins. It probably goes without saying, but I will: Kevin leads the field in average finish (3.6), average loop rating (118.4), average running position (6th), and total laps led (282) over the last 5 Phoenix races. In all likelihood, the Monster Energy girls in victory circle will be laundering more Busch beer from their outfits on Monday.
Kyle Busch (Pit Stall Rating 279.25, 2nd) – This is one of the stronger tracks for Kyle Busch, and Joe Gibbs Racing as an organization. With a 68% career top-10 percentage at Phoenix, including 5 straight since 2015 (4th, 4th, 2nd, 3rd, 7th), Kyle should be considered in all fantasy formats this weekend. Kyle gradually improved throughout the day at Las Vegas, and I expect the #18 team will ride that momentum into Avondale, probably after hitting up the In-N-Out Burger. I mean, it's right there on the way, and it's not like we have them in Charlotte… Surprisingly, Kyle has not won at Phoenix since 2005, his lone victory at this track. If you look at the flat-banked tracks (Phoenix, Richmond, New Hampshire, Martinsville), Kyle Busch is a stud at all of them – no mystery here.
Kyle Larson (Pit Stall Rating 58.97, 10th) – Larson was chasing down Hamlin last November when he pitted, surrendering 2nd place for a blown engine on lap 104, which is noteworthy. I think this track fits Kyle's driving style really well – especially with his background on dirt – and aerodynamics are less of a concern here with the work-in-progress Chevy Camaro. Prior to last fall's 40th place DNF, Kyle finished 2nd in this race last season, and 3rd in the prior race. He's currently 5th in driver momentum and getting stronger with each race. Had his engine held up, I think he would've easily cashed three consecutive show bets.
Denny Hamlin (Pit Stall Rating 79.52, 5th) – Denny led 193 laps of last November's race. However, late lap retribution from Chase Elliot (see: Martinsville, Oct '17) led to a tire rub, and eventually the #11 blew a tire and hit the wall. Denny ultimately finished the race DNF 35th, but still maintains an 12.6 average finish (6th) thanks to 4 straight preceding top-10s. I feel this weekend is where the balance of power briefly shifts from Ford to Toyota, if only for a weekend.
Chase Elliott (Pit Stall Rating 139.87, 3rd) – Failure is a tremendous teacher, and Chase had to learn the hard way last fall when Matt Kenseth passed him for the lead with 10 to go, once again snatching Chase's first win from his grasp. Those memories stick with a driver, much like the stench of falling asleep with a pizza in the oven (do not attempt), and I think it will be added motivation for the #9 team this weekend/season. Like with Kyle Larson, I'm less worried about the Chevy Camaro's aero package on a flat-banked track, and Chase certainly performed well on the flat tracks last year. He only has 4 races at Phoenix under his belt, but has finished 8th, 9th, 12th, and 2nd. This team is on the cusp of clicking – don't be surprised to see Chase competing for the win again.
THE DRAFT (dark horse)
Erik Jones (Pit Stall Rating 95.15, 4th) – As I previously mentioned, I really like the Gibbs drivers this week at Phoenix. Sure, Kyle Busch and Denny Hamlin are the big Gibbs names, but junior drivers like Erik Jones and Daniel Suarez also deserve diligent attention. My personal preference is Jones, who finished 8th and 4th at Phoenix last year. So, are those outlier finishes? Fortunate beginners luck? No. In the Xfinity series, Jones made 7 starts at Phoenix. He finished in the top-10 all 7 times, and 5 times in the top-5, all with Joe Gibbs Racing. Dude knows how to drive here, period. I'll be watching the #20 car closely.
THE DRAG (avoid 'em)
Jimmie Johnson (Pit Stall Rating 45.44, 17th) – I really try to keep this section aggressive. In other words, I don't want to be writing about avoiding Michael McDowell or Trevor Bayne each week when nobody in their right mind would (should) be choosing them. With that approach, I'm going to look foolish now and again, and that's okay. No matter the outcome, passing for the right reasons is always better than picking for the wrong reasons. I know a lot of you are in love with Jimmie Johnson this week, so come on over here and let's talk about it. The time where the #48 dominated at Phoenix is over. I know, I miss it too, but it's the reality. Toss out what Jimmie has or has not done lately at Phoenix, because the correct argument is simple: when you invest a start in an elite driver like Jimmie, you better get elite results from him. Right now, I have no confidence in his qualifying, I have no confidence he can earn points in the stages, and it's questionable whether he can deliver a full race, let alone a top-10. I mean, 12th with 0 stage points at Las Vegas felt like a huge moral victory for the #48 team, but moral victories don't pay out in fantasy sports. Be patient, hold off, and let this team demonstrate they are worth backing instead of myriad other great options. It's a long season, and they'll eventually get there.
AVERAGE FINISH POSITION @ PHOENIX
3.6, #4 Kevin Harvick
4.0, #18 Kyle Busch
7.8, #9 Chase Elliott
10.3, #20 Erik Jones
12.5, #19 Daniel Suarez
AVERAGE LOOP RATING @ PHOENIX
118.4, #4 Kevin Harvick
111.7, #18 Kyle Busch
109.1, #9 Chase Elliott
100.8, #22 Joey Logano
100.2, #11 Denny Hamlin
MOMENTUM (last 3 overall races)
42.0, #4 Kevin Harvick
41.0, #22 Joey Logano
40.3, #12 Ryan Blaney
38.3, #78 Martin Truex Jr.
34.7, #42 Kyle Larson