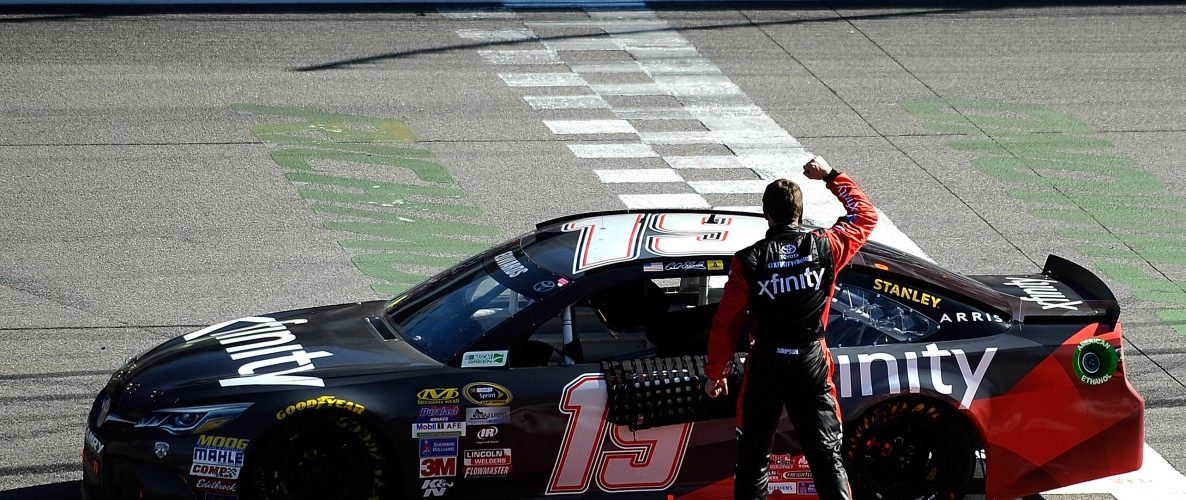 Only 12 of the 39 drivers completed all 500 laps at Bristol, if that's any indicator of how things went. As promised, I am now 3/3 for finding the lonely grandstands of Monday afternoon at BMS. It rained, it snowed, it hailed, and the race took multiple days to complete. I tried periodic stints with the men's room air dryer to warm up my shivering core, but the efforts were fleeting and futile. Once I returned to the grandstands, the winds promptly resumed relentlessly beating through yet another $81 souvenir jacket I'll never wear again. Though all of us were vastly unprepared for the conditions, I think my dad received the most awkward looks from the other 30 or so people crazy enough to attend the race. After all, among the sober, only a native Minnesotan would wear shorts under that $1.79 rain pancho. Die hard fan status achieved.
Okay, hyperbole aside, the racing itself was actually quite impressive. When they last reconfigured Bristol, it became a high-groove race track, much to the disapproval of some fans. Adding the PJ1 compound has clearly made the bottom groove the preferred line, but it can be both temporary and conditional. It takes a really long green flag run to work in that high line, and simultaneously lose grip on the bottom. If and when that happens, some drivers can make a charge through the field if they're willing to venture up in the marbles. We saw Justin Allgaier do this in the Xfinity race on Saturday, Kyle Busch on Sunday, and Kevin Harvick on Monday. These cars were quickly catching up on a well dispersed field, picking off positions one by one. However, once a caution regrouped the field on new tires, the advantage seemed to be lost, and the progression had to start over. In the end, I thought this created a good mixture of racing lines, including the return of the bump n' run, which Kyle Busch incorporated into his victory. The second leg of our short track doubleheader now lands us in Richmond, Virginia this weekend.
RICHMOND RACEWAY
Richmond is a 0.75 mile, D-shaped oval, most closely resembling Phoenix (very loose resemblance, but still). With only 14 degrees of banking in the turns, Richmond is considered a flat, short track. Significant brake input will contribute a tremendous amount of heat to the tires, and the lack of banking will add a lot of stress on the right-side tires, specifically the right front. Without an inner tire liner, it's not uncommon to see a car in the wall for these reasons, let alone direct contact with a competitor. Like the other 3 tracks in this classification (Phoenix, Martinsville, New Hampshire), it's very difficult for [most] cars to keep pace in the outside line. Thus, cars that can consistently hook the inside yellow line are very difficult to pass. Tempers flare, but a patient driver can wear down the competition with relentless pressure, then capitalize once the victim makes a mistake (usually by over-driving corner entry and drifting too far up the track). Of course, there are always exceptions to the rule, and the short track ringers will be able to pass cars anywhere if they have a decently handling car. Restarts, strategy, and clean pit stops will be critical for track position, especially late in the race. It doesn't get much better than Saturday night at the short tracks.
PIT STALL PICKS: THE DOWNFORCE, THE DRAFT, & THE DRAG
This section is less about prognostication, and more about highlighting drivers catching my eye at a given moment. We all play in different formats and have different strategies, but hopefully this adds some value to your results. Good luck!
THE DOWNFORCE (start 'em)
Winners profiled: 50%
Top-5 finishers: 50%
Top-10 finishers: 73%
Avg Finish Position/profile: 9.9
Avg Points/profile: 36.3
Kyle Busch (Pit Stall Rating 143.82, 4th) – Kyle Busch is simply on fire right now, winning two consecutive races and finishing no worse than 3rd over the last six. He is a 4-time winner at Richmond in his career, and holds a 60% top-5 percentage, which ranks as his second best track. This sport is streaky, and like Kevin Harvick earlier this season, the prospect of winning 3 consecutive races gets a lot easier when you're heading to the comfortable confines of a familiar track. Richmond is nothing less than that for Kyle.
Denny Hamlin (Pit Stall Rating 266.67, 1st) – Denny is from Chesterfield, VA, a suburb of Richmond. While that fact alone is no [good] reason to back a given driver, he is arguably the best short track racer in the field. Toss out wherever people finished at Bristol, including Denny and his 30 points. The fact is, he was among the strongest cars for most of the race. Despite starting 25th, he ranked 7th in loop rating (94.8), and some late-race misfortune cost him the lead lap and a chance at a top-5. Denny is top of the charts in average finish (4.2) and loop rating (112.0) at Richmond over the last 5 events, but his teammate has the hotter hand right now.
Joey Logano (Pit Stall Rating 213.13, 2nd) – Logano didn't grab anyone's attention last weekend, but came away with yet another consistent, steady points finish. It may surprise some people to learn Joey currently ranks 16 points higher in the standings than Kevin Harvick, who has 3 victories, but slow and steady is winning the race for the #22 team. Richmond is one of Joey's best tracks. He has 2 wins, 7 top-fives, and 10 top-tens in 18 career starts. His 4.8 average finish in the last 5 events at Richmond ranks second across the field.
Brad Keselowski (Pit Stall Rating 150.14, 3rd) – After winning both stages at Bristol, this dude really had me wanting to throw my headset (I had him as The Drag). Of course, I had to stay patient, and trust the data (plus, headsets are like $200 a pop, and it was a bad idea). Sure enough, the inevitable issues surfaced in the waning laps, and the #2 dropped through the field like an elevator. Regardless, gambling/fantasy is not an industry where we hold personal grudges, and a short memory has us back on the #2 train this weekend. While this is another hit-or-miss track for Brad, the swings are less pronounced than Bristol. Brad's worst finish in the last four seasons at Richmond is 17th, and his 7.2 average finish over the last 5 events ranks 3rd overall.
Kevin Harvick (Pit Stall Rating 118.07, 5th) – Kevin has the numbers at Richmond to warrant this spot on merit alone. However, what we're seeing from this team right now is championship caliber. After wrecking in practice, they battled all day at Bristol to secure a top-10 finish. Overcoming adversity is what championship contenders do, and we're consistently seeing the #4 and #18 teams deliver the goods each weekend.
7-TIME WATCH – The #48 finally looked good, and more importantly, closed a race in the top-3 for once. I'm keeping this custom segment active until this team gets back into consistent, reliable form. Right now, they can't be relied upon, but we shouldn't rule them out either. Jimmie is one of the top short track drivers available, and this is a good spot to jump in if you need a contrarian strategy with high upside this week.
THE DRAFT (dark horse)
Kyle Larson (Pit Stall Rating 112.84, 6th) – I don't have enough data to back up this claim in the top-5 selections, but Kyle was in a rocket last weekend. He historically has strong cars at Phoenix (despite results), and has two strong finishes in his last 3 events at Richmond. Kyle ranks 6th in Pit Stall Rating on its face, which is always encouraging, regardless of seasonal context. Numbers aside, this is a solid pick.
THE DRAG (avoid 'em)
Chase Elliott (Pit Stall Rating 47.48, 15th) – Chase has yet to finish better than 10th in 6 career starts at Richmond, so there's not much historically and contextually to justify a usage here. The lone source of optimism is Chase's 3rd place finish back at Phoenix, so don't count him totally out. I say that because leagues are different. In mine, you need at least a top-5 to improve your position, and you can only use each driver once. In others, Chase might be a good sleeper pick and something worth rolling the dice on. Either way, the #9 team desperately needs to jump start their season soon.
AVERAGE FINISH POSITION @ RICHMOND
4.2, #11 Denny Hamlin
4.8, #22 Joey Logano
7.2, #2 Brad Keselowski
7.6, #18 Kyle Busch
8.4, #48 Jimmie Johnson
AVERAGE LOOP RATING @ RICHMOND
112.0, #11 Denny Hamlin
109.3, #18 Kyle Busch
108.1, #2 Brad Keselowski
103.9, #4 Kevin Harvick
102.3, #22 Joey Logano
MOMENTUM (last 5 overall races)
52.2, #18 Kyle Busch
38.6, #14 Clint Bowyer
35.0, #4 Kevin Harvick
34.8, #22 Joey Logano
34.4, #2 Brad Keselowski