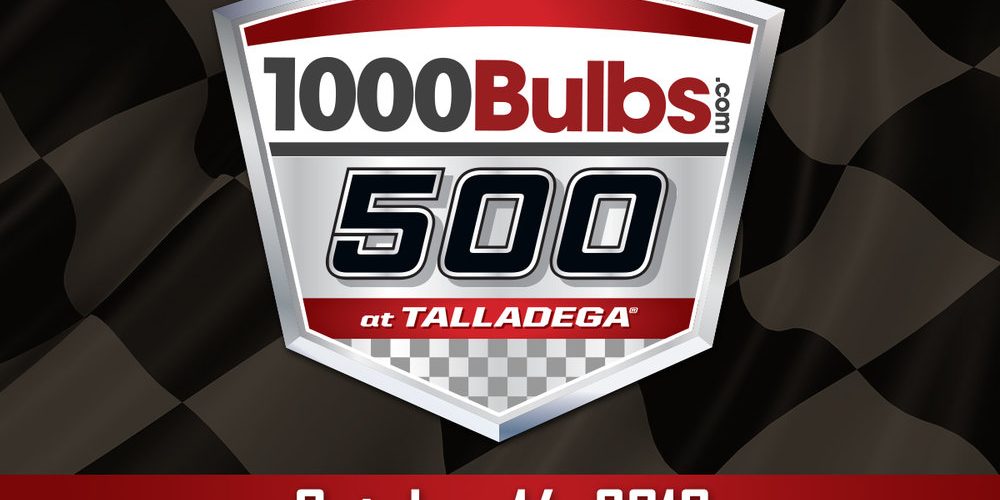 The only playoff driver not nervous this week is Chase Elliott, who assured advancement to the Round of 8 with a victory at Dover. As for the rest, this weekend presents the biggest question mark on the schedule for the rest of the season. Survive, and maybe have a chance at the Championship. Then again, there's always a chance Stenhouse wrecks everyone out equally…
TALLADEGA SUPERSPEEDWAY
At 2.66 miles, Talladega Superspeedway is the longest track on the schedule. Much like its 2.5 mile counterpart in Daytona, the cars run a restrictor plate that governs horsepower, and therefore speed. By "govern," I mean keeping cars in the draft around a modest vicinity of 205 mph. Inevitably this results in large packs of cars running around the track together, relying more on aerodynamic drafting forces to influence running position than anything else. The intense racing is literally bumper to bumper, and fortunes are traded on a lap-by-lap basis. Our primary goal is just for our driver to finish the race, preferably on the lead lap, and other standards fade quickly from there. All drivers have a chance to win here if the stars align, and they risk a premature exit when the stars do not.
PIT STALL PICKS: THE DOWNFORCE, THE DRAFT, & THE DRAG
This section is less about prognostication, and more about highlighting drivers catching my eye at a given moment. We all play in different formats and have different strategies, but hopefully this adds some value to your results. Good luck!
THE DOWNFORCE (start 'em)
Kurt Busch – Kurt has an 80% top-ten percentage at Talladega in the last 5 races, 3 of which were 6th or better. Kurt also leads all active drivers with a career top-ten percentage of 52% at plate tracks, and currently leads momentum across the last 5 overall 2018 races with an average of 38.4 points.
Brad Keselowski – Brad leads all active drivers with 5 career victories at Talladega. He also has a career top-ten percentage of 58%. After winning three in a row, Brad finished 9th at Richmond, was in the lead on a late restart at Charlotte, and got taken out late in contention at Dover. This team has the hottest hand in the sport right now, despite what some results imply.
Joey Logano – If you start the #22, you're either going to do really well, or be very disappointed. It seems there's no mediocrity in this pick. Joey has 3 wins in the last six races, a 4th place finish, and two egg lays of 25th and 32nd. Given recent form, I like his chances.
Ricky Stenhouse Jr. – Since 2011, Stenhouse's average finish of 11.4 is best among active drivers at Talladega. 80% of his starts have ended in a top-twenty finish, and none of those have been worse than 16th. 60% of his overall starts have finished in the top-ten, including a win in 2017. However, be leery: the #17 took out a lot of cars last time we were in Alabama, and I wouldn't expect many competitors to concede positions throughout the race.
Aric Almirola – I really need to stop overlooking this guy beyond the plate tracks. Maybe next week.  Anyway, Aric has 4 straight top-tens at Talladega, finishing 8th, 4th, 5th, and 7th. He's a solid plate driver, but hunting at Dover makes him an even more confident pick here. With yet another taste of success, it's just a matter of time before they finally close out a race for the win (#brokenRecord).
THE DRAFT (dark horse)
David Ragan– This is a bigger stretch than I'd normally make in a normal week, but it's a plate race. Starting a long shot is often better than wasting a big name here. Besides, David has finished 10th, 10th, and 6th in the last 3 Talladega races. In my opinion, he's always been a very underrated plate driver, and is definitely worth consideration this weekend if you need to save starts. We're all flipping coins here anyway.
THE DRAG (use caution)
Erik Jones – 33rd. 36th. 39th. Finishing these plate races is an art form in and of itself. Erik has not proved this skill at Talladega yet.
AVERAGE FINISH POSITION @ TALLADEGA (last 5 track events)
9.0, #41 Kurt Busch
10.2, #10 Aric Almirola
10.6, #17 Ricky Stenhouse Jr.
12.6, #22 Joey Logano
13.0, #11 Denny Hamlin
AVERAGE LOOP RATING @ TALLADEGA (last 5 track events)
106.3, #22 Joey Logano
101.5 #2 Brad Keselowski
94.5, #41 Kurt Busch
93.7, #9 Chase Elliott
92.1, #12 Ryan Blaney
2018 PTS MOMENTUM (last 5 overall races this season)
38.4, #41 Kurt Busch
36.4, #22 Joey Logano
36.2, #9 Chase Elliott
35.2, #2 Brad Keselowski
35.0, #4 Kevin Harvick