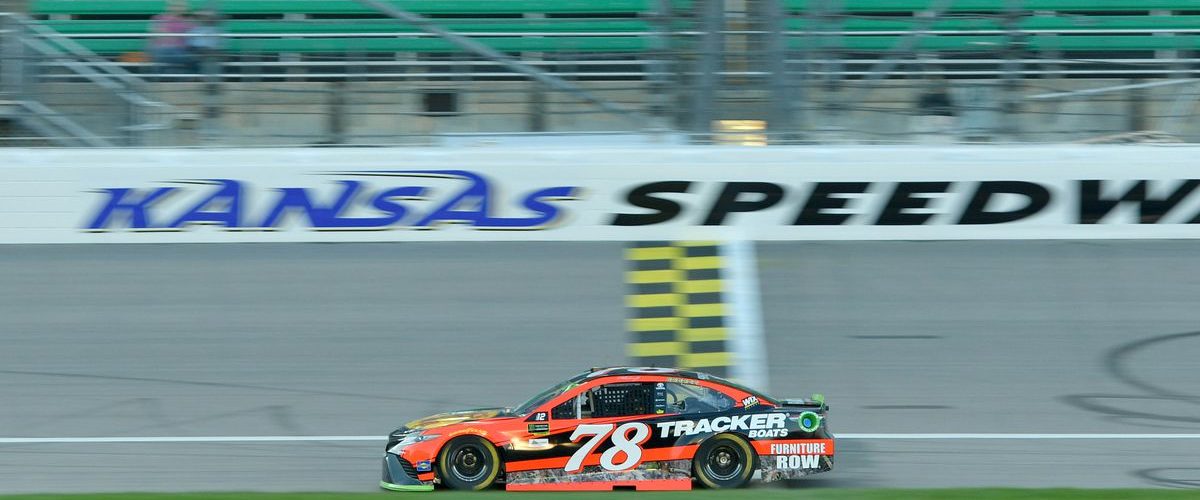 As we head to the final race in the Round of 12, Aric Almirola and Chase Elliott are moving on, and 4 drivers will be looking for a win to propel them forward. Brad Keselowski (-18), Ryan Blaney (-22), Kyle Larson (-36), and Alex Bowman (-68) are currently on the outside looking in, and need a top performance, and likely some help, to keep their seasons alive. Of the drivers in the, uhhhh, driver's seat, Martin Truex most notably sits only 18 points to the good for the 8th and final spot in the next round. At the end of the day, we're going to see a diverse, situational mixture of conservative and aggressive strategies from different teams.
KANSAS SPEEDWAY
Kansas Speedway is a 1.5 mile, D-shaped intermediate oval located on the western outskirts of Kansas City, Kansas. The banking is much more shallow compared to other intermediates, and it's really a track of its own uniqueness when we factor in all the specs. Personally, I think it drives most like Chicago and Kentucky, with honorable mention to Las Vegas (minus the banking disparity). Kansas definitely has multiple racing grooves, so we should see a lot of battles for position throughout the racetrack.
PIT STALL PICKS: THE DOWNFORCE, THE DRAFT, & THE DRAG
This section is less about prognostication, and more about highlighting drivers catching my eye at a given moment. We all play in different formats and have different strategies, but hopefully this adds some value to your results. Good luck!
THE DOWNFORCE (start 'em)
Kevin Harvick – A show bet on the #4 team has paid out in 7 of the last 10 Kansas races, including wins in 2013, 2016, and earlier this spring. Despite a rough conclusion to his day at Talladega, Kevin still technically has the most points of all playoff contenders and will certainly be moving on to the next round. However, for that reason, I do not expect this team to mail in a conservative points day just for the sake of finishing. Anything less than a top-3 finish can probably be considered a disappointment this weekend.
Martin Truex Jr. – Martin swept both races in 2017 and finished runner-up earlier this spring. Like the #4 team, I just can't see the #78 being content to log laps and preserve a delicate points advantage. Instead, I think they will feel most safe by running up front early and often to gobble up as many stage points as possible. Late in the race, big picture strategy may influence some decisions, but the best way to move on is by winning.
Kyle Busch – If we can consider two consecutive 10th place finishes a 'cold streak', then I guess that's what Kyle is on at this track. Prior to those, Kyle had 5 consecutive top-fives, which does still mean 7 straight top-tens overall, despite the unfair standards the #18 has set for themselves. Kyle also had a disappointing finish at Talladega, but barring a total disaster, still holds a virtually insurmountable points position. Much like Harvick, I don't see many strategy impacts from playoff considerations affecting the #18 team this weekend.
Ryan Blaney – I'm not sure the #12 is running well enough lately to sneak up and win on the field, but this is a really good spot for Ryan. He finished 37th in the spring on account of stupidity and frustration, but features 3 top-fives in the last 5 Kansas races nevertheless. This team needs a win, so hopefully they don't screw you out of stage points by short pitting or something dumb.
Kurt Busch – The way I personally rank drivers (aka Pit Stall Rating), Kurt ranks 4th among all drivers over the last 7 Kansas races. Kurt's average finish of 8.4 (4th) and average loop rating of 96.9 (7th) combine to formulate a 115.36 Pitstall Rating. The only other drivers over 100 are his brother Kyle (192.5), Kevin Harvick (262.5), and Martin Truex (155.0). Pretty good company.
THE DRAFT (dark horse)
Aric Almirola – With Stewart-Haas, Aric has posted two consecutive 9th place finishes at Kansas, and he's fresh off a win at Talladega. As an organization, SHR was in a class of their own last weekend for most of the race. If you need a contrarian strategy, this is probably the guy I'd go with. For the record, I did start him last weekend 🙂
THE DRAG (use caution)
Clint Bowyer – But Dan, he's a Kansas native? I don't care where he's from, or how charming and funny I find him to be. The fact of the matter is, his best three finishes here are 9th, 15th, and 18th since 2014. I'll be cheering for the #14 to stay in the Round of 8, but he lacks the foundational statistics to recommend as a play this week.
AVERAGE FINISH POSITION @ KANSAS (last 5 track events)
3.0, #4 Kevin Harvick
5.8, #78 Martin Truex Jr.
6.2, #18 Kyle Busch
9.0, #41 Kurt Busch
11.8, #3 Austin Dillon
AVERAGE LOOP RATING @ KANSAS (last 5 track events)
125.8, #4 Kevin Harvick
120.4 #78 Martin Truex Jr.
117.2, #18 Kyle Busch
102.8, #12 Ryan Blaney
91.7, #41 Kurt Busch
2018 PTS MOMENTUM (last 5 overall races this season)
38.2, #22 Joey Logano
37.4, #41 Kurt Busch
36.4, #10 Aric Almirola
36.2, #78 Martin Truex
33.8, #4 Kevin Harvick