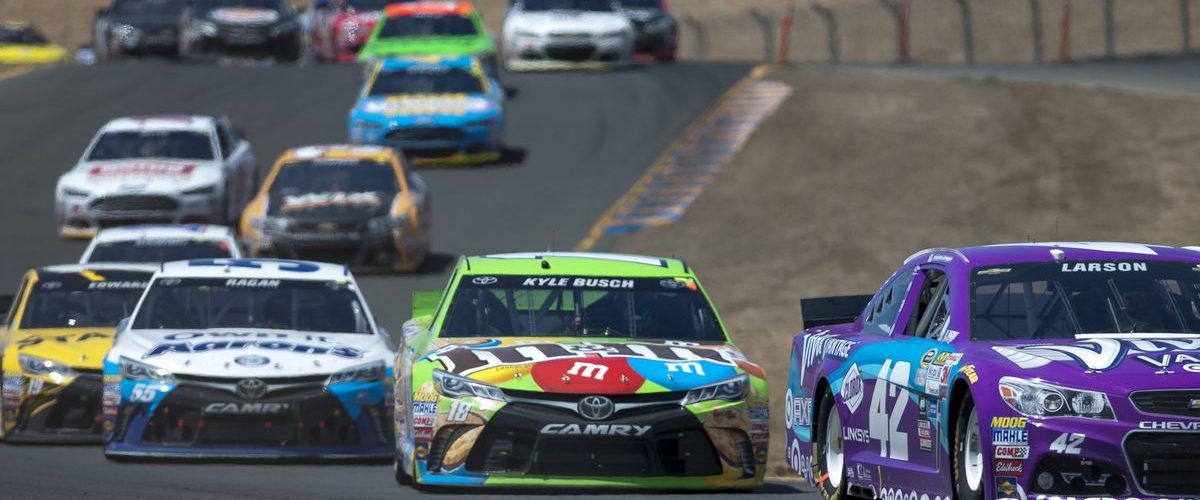 SONOMA RACEWAY
After a weekend off, the series heads west to Sonoma, CA for our first road course event of the season. Road course races are typically more focused on driver skill and car handling than other races, which is nice because I get to shuffle up the profiles (not really). Opportunities for on-track passing are limited at Sonoma, and it's important to focus on cars that can start up front and stay up front all day. At only 218.9 miles, this is a very short race and will go by pretty quickly, and opportunities to make adjustments on pit road will be minimal.
PIT STALL PICKS: THE DOWNFORCE, THE DRAFT, & THE DRAG
This section is less about prognostication, and more about highlighting drivers catching my eye at a given moment. We all play in different formats and have different strategies, but hopefully this adds some value to your results. Good luck!
THE DOWNFORCE (start 'em)
Kurt Busch (Pit Stall Rating 153.00, 1st) – Kurt has a career average starting position of 8.3 to go along with an average running position of 10.1. He has run 79% of his laps in the top-15, which is best among active drivers. He's one of the most consistent performers at Sonoma, and I expect to see him near the front all day.
Kevin Harvick (Pit Stall Rating 129.27, 2nd) – If not for a rain delay to end the race at Michigan, Harvick might have 6 victories on the season. Instead, he has another great opportunity to get it this Sunday. Kevin is the defending race winner from 2017 and has three consecutive top-6 finishes going.
Clint Bowyer (Pit Stall Rating 71.33, 6th) – Not to discredit the #14 team, a win is a win. I really REALLY like Clint Bowyer at Sonoma. The stats indicate a mastery of finishing in the top-5 consistently, regardless of equipment and team. A 40th place DNF in 2016 is distorting his numbers, but it's the exception, not the rule. Clint has a career top-10 percentage of 75% at Sonoma over the years, which is the best among active drivers (58% top-5, also best).
Denny Hamlin (Pit Stall Rating 58.01, 11th) – Denny has finished the last two races in 2nd and 4th, and I think this team is on the cusp of joining the top contenders. Like I always say, it really boils down to this driver eliminating mistakes on pit road. He certainly has the pedigree to drive his way to the front. I do consider this pick a bit of a gamble, however. The hope is something has clicked, because his results prior to 2016 paint a much different picture.
Joey Logano (Pit Stall Rating 93.40, 4th) – I think Joey is a sneaky good road course driver. Prior to finishing 12th last year, he had two consecutive top-5s going, and I think it's more likely than not to see him in the top-ten this weekend. He has much better numbers at Watkins Glen, but road course racing is an art form no matter where it happens.
THE DRAFT (dark horse)
Jimmie Johnson (Pit Stall Rating 108.75, 3rd) – The #48 has been a top choice here in year's past, but two consecutive 13th place finishes have dulled the luster a bit. This pick has obvious risk given their lack of consistency this year, but there's big upside if they put everything together and get to victory lane.
THE DRAG (use caution)
A.J. Allmendinger (Pit Stall Rating 30.55, 20th) – A.J. has been a trendy pick at the road courses in recent years, but I'd be much more comfortable with him at Watkins Glen than taking a chance at Sonoma. Here's what the numbers say: 0% top-fives, 22% top-tens, 56% top-fifteens, 56% top-twenties. You're going to see him practice and qualify up front, but I think his aggressive moves and lack of patience are working against his best interests. His best finishes are 7th (2009) and 9th (2012).
AVERAGE FINISH POSITION @ SONOMA (last 5 track events)
7.0, #41 Kurt Busch
8.2, #4 Kevin Harvick
9.4, #22 Joey Logano
9.6, #48 Jimmie Johnson
10.6, #95 Kasey Kahne
AVERAGE LOOP RATING @ SONOMA (last 5 track events)
107.1, #41 Kurt Busch
106.0 #4 Kevin Harvick
104.4, #48 Jimmie Johnson
102.9, #78 Martin Truex Jr.
94.1, #47 A.J. Allmendinger
2018 MOMENTUM (last 5 overall races this season)
44.6, #4 Kevin Harvick
43.4, #18 Kyle Busch
40.6, #78 Martin Truex Jr.
39.4, #2 Brad Keselowski
39.0, #14 Clint Bowyer