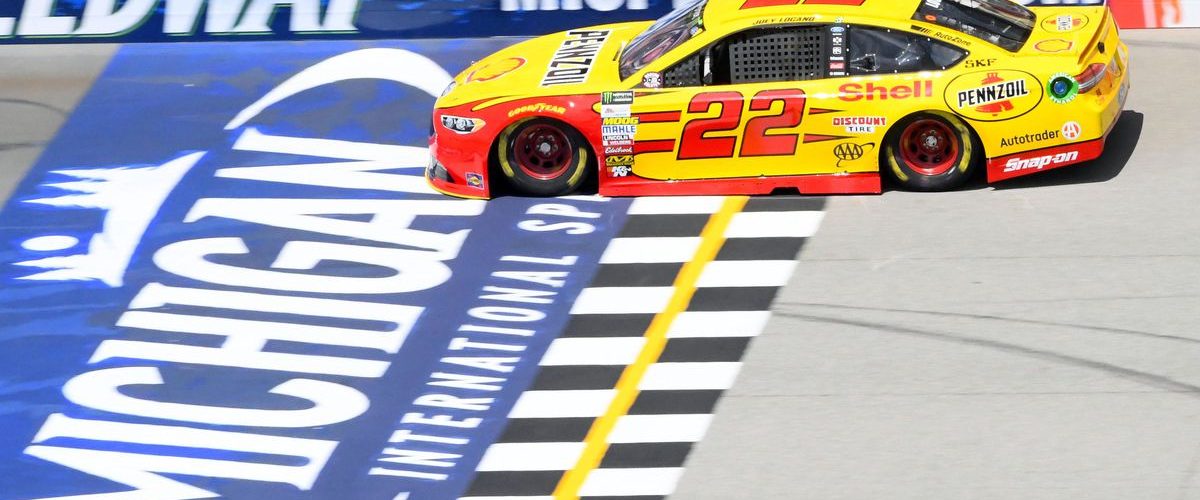 With Martin Truex's victory at Pocono, three drivers have now won 11 of the first 14 races, and it's looking more and more like most of the field will be battling on points to make the playoffs. It's also feeling like every race preview is already a forgone conclusion, and my posts are receiving less and less enthusiasm from reader and author alike. Have faith, my friends; I feel like we're going to see a new 2018 winner this weekend (I'm going to keep saying this until it finally comes true).
MICHIGAN INTERNATIONAL SPEEDWAY
Just like I previously wrote for Auto Club, Michigan is the other 2.0 mile D-shaped superspeedway on the schedule. From the fan's point of view, Michigan and Auto Club are essentially the same track, but I assure you there are some small variations in the optimal line and surface conditions, especially since Michigan was repaved before the 2012 season and has 4 additional degrees of banking in the turns. Like Auto Club, the key is getting off turns 2 and 4 with as much momentum as possible to carry down these lengthened straightaways.
PIT STALL PICKS: THE DOWNFORCE, THE DRAFT, & THE DRAG
This section is less about prognostication, and more about highlighting drivers catching my eye at a given moment. We all play in different formats and have different strategies, but hopefully this adds some value to your results. Good luck!
THE DOWNFORCE (start 'em)
Kyle Larson (Pit Stall Rating 303.42, 2nd) – When it comes to these 2.0 mile tracks, I really like Kyle Larson, and he looked good enough at Pocono last weekend to earn a top billing this weekend. Kyle's avg finish over the last 5 events is 3.8, and he holds the highest avg loop rating of 115.3. As advertised, he started 3rd and finished 2nd earlier this season at Auto Club.
Kevin Harvick (Pit Stall Rating 137.18, 3rd) – Seriously? Just start him anywhere.
Martin Truex Jr. (Pit Stall Rating 127.44, 4th) – Martin now has two victories on the year, as he looks to build upon two straight top-tens at Michigan from 2017. Martin tends to lead a lot of laps here, so the only question is whether he can close it out strong.
Chase Elliott (Pit Stall Rating 325.43, 1st) – Chase technically has the highest Pit Stall Rating over the last 5 events, but I reamin skeptical of the Hendrick teams delivering elite expectations consistently. No matter what, you have to feel pretty good about a guy who has 2nd, 2nd, 2nd, and 8th on his resume, partial or not. I plan to monitor this performance for the next Michigan visit.
Joey Logano (Pit Stall Rating 109.90, 6th) – You know a team is running well when they can run out of gas and still bring home a top-ten at Pocono. Joey has been hovering around the top-3 in points all season, and this team has been one of the most consistent to choose from. Unless an accident or malfunction soils the plan, you're almost certain to see the #22 in the top-10 once again when the checkered flag waves.
THE DRAFT (dark horse)
Jamie McMurray (Pit Stall Rating 89.57, 8th) – If you need stage points, this may not be the best play for a 12th place loop average. However, Jamie does have 4 consecutive top-tens going at Michigan (9th, 8th, 5th, 9th). It's not often you'll see me write about the #1 team, but I'm putting him out there as a good spot-starter if you need to conserve other drivers right now. Being teammates with Kyle Larson probably can't hurt here either.
THE DRAG (use caution)
Kyle Busch (Pit Stall Rating 50.00, 15th) – Unless you're somehow allowed to start Kyle Busch every weekend, there are much better tracks to spend our precious #18 uses on. Wow, I can't believe I just said that, but hear me out. Since the resurfacing in 2012, Kyle finally put his best season at Michigan together last year with 7th and 10th place finishes. Prior to that, we'd have to go back to 2013 to find his next top-10. Over the last 5 events, his avg finish is 17.4 (16th) and his avg loop rating is 87.0 (10th). On the bright side, Kyle started 2nd and finished 3rd at Auto Club, and obviously he's been a force all season long. There, you have the facts, the rest is up to you and your situation.
AVERAGE FINISH POSITION @ MICHIGAN (last 5 track events)
3.5, #9 Chase Elliott (4 races)
3.8, #42 Kyle Larson
7.8, #4 Kevin Harvick
8.0, #20 Erik Jones (2 races)
8.6, #78 Martin Truex Jr.
AVERAGE LOOP RATING @ MICHIGAN (last 5 track events)
115.3, #42 Kyle Larson
113.9 #9 Chase Elliott
109.6, #78 Martin Truex Jr.
107.7, #22 Joey Logano
107.0, #4 Kevin Harvick
2018 MOMENTUM (last 5 overall races this season)
42.6, #4 Kevin Harvick
41.8, #18 Kyle Busch
40.6, #78 Martin Truex Jr.
35.0, #22 Joey Logano
34.2, #2 Brad Keselowski